A 6-Week Online Course for Alexander Technique Teachers
with Alice Olsher
Starting May, 25, 2021
Tuesdays at 11 AM Pacific, 1 PM Central, 2 PM Eastern, 7 PM UK, 8 PM Germany
(Click here to find your time zone.)
PLACES ON THIS COURSE ARE NO LONGER AVAILABLE. A new group will be forming soon. Please Contact Alice for information.
Refresh your Alexander Technique skills in this postgraduate course with Alice Olsher. The course is founded in Alice's extensive experience (as pupil, trainee and teacher) at the Constructive Teaching Centre, working especially with Dilys Carrington.
This course has been designed for Alexander Technique teachers who:
Wish to refresh their experiential knowledge; and
Are interested in refreshing  the process of training to be a teacher
(Alice also offers groups for people wishing to train to be an Alexander Technique Teacher. Contact Alice for information.)
"I have been enjoying taking Alice Olsher's Teacher's Refresher Course.  The series she's teaching in this course is on the spirals as Dylis taught them.  Alice paces her teaching beautifully allowing the time and attention to refresh our non-doing and come back to our direction. With each instruction, we are given a wonderful example along with the opportunity to take time to come back to looking after ourselves.  Her instructions with the emphasis on non-doing serve to remind everyone in their responses to start by stopping."
—Eileen Troberman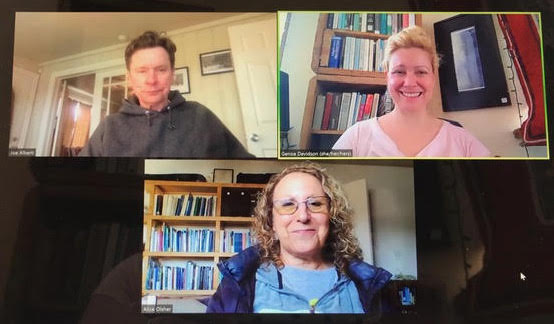 Alice designed the course especially for people who have experienced Carrington-style work at some point in their Alexander learning journey, and who would like to have  that type of self care.
What this course is not : A time to pull apart the theory!
This course will give you Time for Yourselves.
We will go through thoughts about the evolution from a private pupil to a student/trainee to a teacher.
This evolution will be explored through experiential games/directed activities.
Alice will guide you through the process of games/directed activities from standing through to hands on the back of the chair stemming from her experience in how Dilys taught this every term in the first year.
We will go through this slowly giving our systems time and will repeat this and other procedures during the course.
We will also go through the Spirals  in ourselves. Alice will demonstrate  this on a skeleton and on herself and then take you through this.
Alice breaks down the process the way we broke it down in the training course so we experience it slowly together and we will explore how this informs out hands on work.
What you will get:
A chance to slow down and focus on yourselves;
Refresh what you already know; and/or
Add  a new aspect to your thinking.
Alice was fortunate  to spend many years with Dilys and Walter Carrington  before,  during , and after she completed her training with them. She worked on the training course after finishing her own training, at first doing post graduate work, and then joining the staff at the Constructive Teaching Centre until 2005 when she moved back to the States. She has been a visiting teacher at the Centre ever since, and also joined the "team" of Carrington  teachers  to teach Continuous Learning at the Chicago Congress and will again teach with them in Berlin in 2022.
Many people worked with the Carringtons in training and post graduate work. They always welcomed people who wanted to see what they do. Alice was one of many and she brings you her perspective of those years and how she has continued the work they taught in her teaching.
A very important part of Alice's style of teaching, which she felt strongly from Walter Carrington, is a sense of mutual respect .